tarting a new business is exciting and can be all consuming. One mistake people often make is coming up with a good service or product but not necessarily a good business setup. A study by Barclays found that only one in four small enterprises had a business plan in place.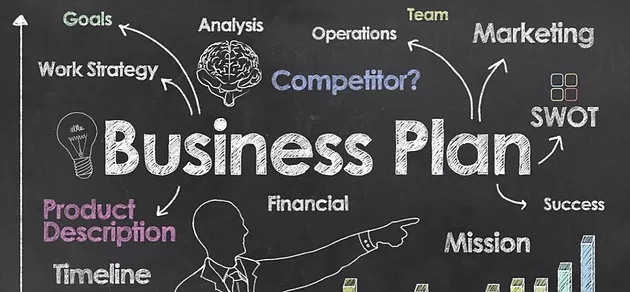 Here are a few reasons it's important to have a business plan in place.
It's Good to Have Goals
Creating goals can make running your business much simpler. You can make it so you are concentrating on the strengths of your product or service. You can create a milestone you wish to reach before an expansion.
For example, you may be running your business from home. The goal could be to move to a more suitable business premises. This will increase the cost of running your business, but it could cost more in lost revenue staying at home once your business has outgrown its capacity. A business plan can help you work out the amount of business you need to be bringing in before it makes sense to make that investment.
You May Need to Secure Funding
If your business needs an injection of funds, potential investors will want to see that you have a plan to make your business profitable. Investors are taking a risk. They are hoping that you know what you are doing and that they will see a return on their investment. If you have ever watched the TV show "Dragon's Den" you will know that many of the entrepreneurs have products or services that the "Dragons" really like, but often fail to secure any investment because they can't show how they plan to make any money out of it.
There may be grants available in your sector, to gain access to these you will need to meet the requirements. A solid business plan will be required in your application.
Controlling Capacity
Knowing the limits of your business is important. It's not a good idea to spend time and money marketing your products or services if you cannot keep up with demand in the event of a successful campaign. A big controlling factor is price, if you have a product or service that is simple to deliver, something you can easily multiply, then sticking to the old adage "stack 'em high, sell 'em cheap" may be a good idea.
When you can easily do a lot of business, you can afford to go onto a smaller margin. However, but if your product is difficult to manufacture, or your service is time consuming, you may want to choose the right type of customers to spend your time working with.
A client might bring in 40% of your turnover, but take up 70% of your time. That means 60% of your money coming in is from just 30% of your time. Dropping the time consuming client (however profitable) and replacing them with clients similar to those who take up little energy compared to the money they spend can potentially make your business more efficient.
Popular entrepreneur and author of business self help books Tim Ferriss promotes this business strategy. He believes it's better to create demand, saying, " Remember, more customers isn't the goal; more profit is."
Exposing Weaknesses
Half of UK start ups fail within 5 years. It is very important to know where your business is weak or the threats that your business faces in your industry. Outlining the weaker parts of your and planning a strategy is important. It's easy to ignore the parts of your business that are not the strengths, but if you ignore them too long they can become terminal and make your business fail.
Good market research combined with honest scrutiny of your product or service will help you work on improving the business as a whole.
It's not only your weaknesses you need to expose. Knowing who your competitors are is important, if there is something they are not doing well, you can focus on being better than them in that area in an attempt to draw their business.
Controlling Cash Flow
Good cash flow management is essential for every small and medium sized business. Many businesses go bust early not through lack of long term profitability, but through inability to pay their bills.
A good business plan can outline a strategy for keeping the bank account healthy. The main principles include, ensuring you have more money coming in than going out and making sure money you are owed comes in on time. You will also need to know the limits of your credit.
Many small business owners are very good in their field of expertise, but may lack when it comes to the financials. At this point it may be worth more investing your time and energy into doing what you do best, and getting financial advice from professionals. Accountants and financial advisors know the finer details that as a business owner you do not want to neglect. They can help you factor in costs such as taxes or make sure you are optimising your VAT status.
You can find a guide on writing a business plan on the UK Government website.
With experience we at Sigma Ten have realized that companies do need help with there initial and vital processes. For this reason, we prefer to invest time helping our clients design their business plan in order to create stable foundations for a successful business.